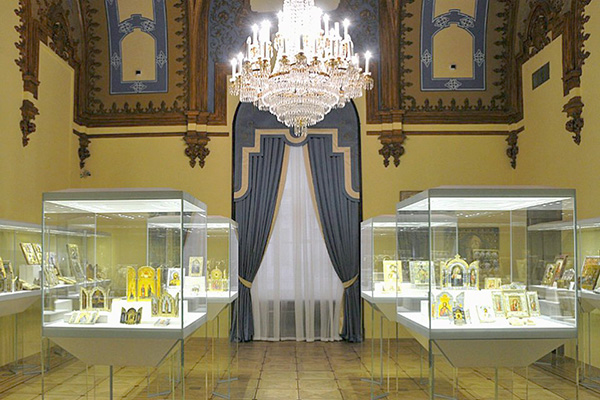 The Fabergé Museum in Saint Petersburg, Russia is a privately owned museum that was established to repatriate objects of Russian cultural heritage primarily in the field of decorative arts. The museum's collection contains more than 4,000 works of decorative applied and fine arts, including gold and silver items, paintings, porcelain, and bronze. A highlight of the museum's collection is the group of nine Imperial Easter eggs created by Fabergé for the last two Russian Tsars.
One of the museum's rooms named the Gothic Room houses a splendid collection of icons and religious artifacts consisting of 155 objects in 18 glass display cases with four exhibits displayed outside of the cases. The objects have a small number of early icons dating to the 16th century and ca. 1600 Royal Doors, but the majority of the objects date to the turn of the 20th century with opulent silver revetment covers in gilt silver and enamel. The collection comprises icons with silver revetment covers by the firm of Fabergé and other leading Russian jewelers: Paul Ovchinnikov, Ivan Khlebnikov, Pavel Sazikov, Karl Hahn, Vladimir Morozov, Feodor Verkhovtsev, Grachev Brothers, Dmitry Smirnov, Orest Kurlyukovm Dmitry Shelaputin, Nikolai Tarabrov, Sergey Zharov, and Olovyanishnikov Brothers.
Of special historical interest is an icon of Christ Pantocrator in a silver frame embellished by large pearls and semi-precious stones by anFabergé workmaster A. Aarne (the most expensive icon sold at Sotheby's), a folding triptych presented to the General Governor of Moscow by the Alexander Community of Sisters of Mercy, the Selected Saints icon that belonged to the Grand Duchess Maria Pavlovna, the exquisite miniature golden triptych by Karl Hahn with a replica of the miracle-working icons of Saint Petersburg connected to the name of Peter the Great, and the icon of St. Nicholas Miracleworker of Myra painted by Mikhail Dikaryev and set by Yakov Mishukov, a gift to Emperor Nicholas II from the Old Believers in Moscow.
Fabergé Museum is located in the historical Shuvalov Palace in the heart of Saint Petersburg at 21 Fontanka River Embankment and is open 7 days a week Exposition: 10 AM – 8:45 PM, Ticket Office: 9:30 AM – 8:15 PM. You can find more information on the museum's web site at fabergemuseum.ru