CLINTON, MA – On view July 17–October 25, 2020
The Russian Store is delighted to sponsor Tradition & Opulence: Easter in Imperial Russia, an exhibition recreating the splendor of Orthodox Easter celebrations during the last days of the Tsars. After the COVID-related delay, the exhibition is open for viewing at the Museum of Russian Icons in Clinton, Massachusetts.
Easter (Paskha), the "feast of feasts," celebrates the Resurrection of Christ, one of the foundations of Christian belief, as well as the promise of mankind's redemption. During the Romanov Era, this annual spring holiday was celebrated with the lavish decoration and exchange of numerous and elaborately decorated eggs.
From opulent, jeweled creations to humble embroidered examples, perhaps no country is more closely associated with the tradition of exchanging decorated Easter eggs than Russia. This exhibition, of almost 200 objects, includes works by the Fabergé firm and its competitors, ceramic eggs, icons, and vintage easter postcards, from collectors around the country and abroad.
Tradition & Opulence gathers an unprecedented selection of 19th- and early 20th-century objects related to Russian Easter celebrations, including icons and works by Fabergé, Ovchinnikov, Grachev, Denisov-Uralsky, the Russian Imperial Porcelain Manufacture, Kuznetsov, and Gardner, as well as ephemera and graphic works on the Easter theme. All of these objects were created and gifted in celebration of Easter, the festival of renewal and resurrection, and remain connected by a common chronology, a time when the tumultuous change was roiling just beneath the surface of Russian society.
The illustrated catalog of the exhibition can be purchased by calling the Museum's gift shop at +1-978-598-5000.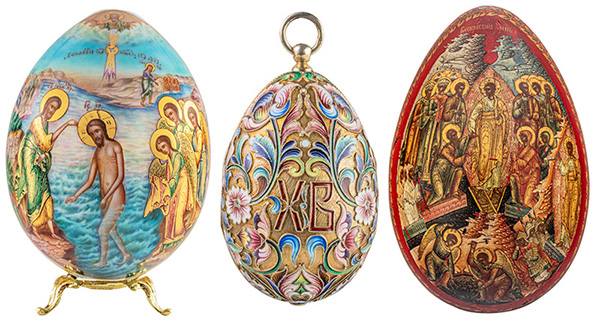 ABOUT THE MUSEUM OF RUSSIAN ICONS
The Museum of Russian Icons inspires the appreciation and study of Russian culture by collecting and exhibiting icons and related objects, igniting the interest of national and international audiences, and offering interactive educational programs. The Museum serves as a leading center for research and scholarship through the Center for Icon Studies and other institutional collaborations. It is the only museum in the United States dedicated to Russian icons, and it is the largest collection of icons outside of Russia.
For more information about the exhibit, please visit museumofrussianicons.org.
COVID-19
The museum has announced that steps to ensure the health and safety of visitors and staff will include adherence to the state's guidelines for social distancing, mandatory masks, enhanced cleaning and limited contact between staff and visitors.
The museum will have new hours and timed ticketing.
The new hours are 11 a.m. to 5 p.m. Fridays, Saturdays, and Sundays; closed Mondays–Thursdays.
There will be four daily time slots: 11 a.m.-12:30 p.m., 12:30-2 p.m., 2-3:30 p.m. and 3:30-5 p.m.
A maximum of 20 guests will be allowed in the museum during each time slot.
Reservations are required and can be made by calling Visitor Services at 978-598-5000.
EXHIBITION SPONSORS

EXHIBITION PHOTOGRAPHS