What are the pricing trends of antique Russian icons and how the economic realities reflect in valuing fine and rare examples? What factual characteristics influence their value and how this influence changes over time?
To answer these questions, we analyzed Russian icons sold at Sotheby's auction house during the Russian-themed sales in New York and London between 2007 and 2020. For the purposes of this study, we selected only icons with the realized prices (comprised of the "hammer price" and the auction's commission) at or above US$20,000. Such icons were compiled into a list showing the pertinent factual information such as icon's abbreviated description (with a link to the actual lot on Sotheby's web site), iconographer / silversmith / workshop name and place of manufacture, sale amount, year or period of manufacture, dimensions, auction's location and date, and any additional information that, in our opinion, influenced the icon's value. For the ease of reference, we also provided images of icons viewable in a slideshow format.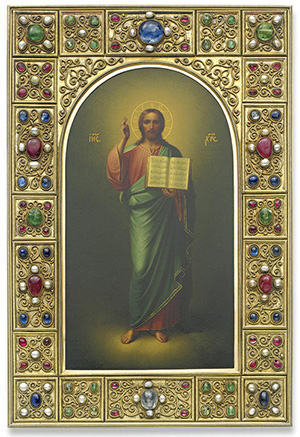 The most valuable icon sold at Sotheby's: Fabergé Icon in the gilded silver frame set with precious stones sold in 2008 for $780,200
Why Sotheby's:
While Sotheby's cannot be considered to be the market arbiter for sales of the Russian Orthodox icons, it is by far, the largest of the Big Four London-based auction houses in sales of the objects of Russian Fine and Decorative Arts. With 2019 gross sales amounting to £18.1 million compared to £12 for Christie's, £4 million for McDougall, and a mere £1.3 million for Bonhams. With sales figures higher than that of the other major auction houses combined, Sotheby's results can be seen as representative for the entire Russian market outside of Russia.
Factual Observations:
With few notable exceptions, the vast majority of high-valued icons sold at Sotheby's between 2007 and 2020 were created during the period between 1870 and 1917, showing strong preference by the purchasers to icons from the so-called Russian Silver Age. Icons executed in strong Pan-Slavic revival and Art Nouveau styles are in high demand and are valued higher than these in the so-called Western-inspired "Academic" style.
Most of the high-valued icons were produced in either Moscow or St. Petersburg – the two largest cities of the Russian Empire that had a large number of affluent customers along with silversmiths and iconographers who serviced their needs.
The majority of high-valued icons have opulent silver revetment covers (called "oklads" in Russian and among the collectors) decorated with gilding, engraving, repoussé, and various types of enamelwork. Icons with the addition of river pearls and semi-precious stones are valued as well as these with large fields of enamelwork or these with unusual silver-working techniques.
Especially valued are icons with revetment covers created by renown Russian silversmiths such as House of Fabergé, Grachev Brothers, P. Ovchinnikov, Khlebnikov, Olovyanishnikov & Sons, Ivan Tarabrov, Sergey Zharov, Orest Kyurlukov, and others many of whom held a prestigious designation of the Purveyor to the Imperial Household.
Icons by the House of Fabergé and its workmasters are valued highly even in small sizes. With the total number of icons produced or retailed by Fabergé is known to be only 150 or so, the appearance of a full-size icon at auction is bound to result in a bidding war. Seven of the icons by Fabergé or Fabergé workmasters sold for over $100,000, including the most valuable icon sold in 2007 for $780,200 (currently on display at the Fabergé Museum in St. Petersburg).
Understandably, icons with documented provenance to the members of the Russian Imperial family or notable historical figures are valued at a premium
Among various icon types, icons in the standard "analoy size" (approx. 12 x 10 inches or 30 x 25 cm) are the most desirable. However, Triptychs, especially these with opulent silver decoration are of great interest. In addition, small "portable" or "travel" icons are also highly collectible and command high prices, especially when produced by one of the top tier silversmiths.
Interestingly, the subject of the iconographic depiction is not a factor in the determination of the valuation in comparison to such factors as the silversmith, provenance, and quality of decoration of the revetment cover. That said, icons depicting important saints or saints with common Russian names (such as Michael, Alexander, Olga, etc.) are always in high demand for its possibility of matching the collector's name or one of a potential gift recipient.
Icons in original silk-lined wooden presentation cases are valued higher than analogous icons without such cases.
While the state of preservation is important, it is not of a major determining factor and some high-valued icons are sold with some degree of restoration or even with a need for such restoration to be done by the purchaser.
The visible absence of the ancient icons (17thcentury and earlier) in the list is most likely explained by the lack of a knowledgeable icon expert in the Sotheby's Russian Department necessary to accurately deal with issues of authenticity, restoration, and valuation issues that arise during the sale of such objects. Several high profile attempts in selling ancient icons and icons without oklads were made by the leading auction houses resulting in scandals, embarrassment, and firings. Understandably, auction teams are not especially eager to re-enter such minefields leaving this part of the market to more specialized auction houses.
In conclusion, it is important to note that true masterpieces of Russian iconographic art were sold at a premium not only during the high point of the Russian antiques market of 2007-2009, but also recently, when in addition to the general antiques market and economic decline, their cost to the buyers increased substantially when measured in Russian national currency because of highly unfavorable foreign exchange rate. Specifically, out of ten most valuable icons sold at Sotheby's between 2007 and 2020, 80% were sold in the recent four years, proving that the very top of the market is not subject to the prevailing economic conditions.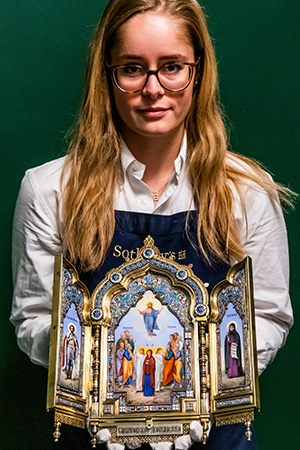 Second most valuable icon sold at Sotheby's: Khlebnikov Triptych Icon of the Ascension of Christ sold in 2019 for $704,850.
---
We buy antique icons. Single items or entire collections. Respectfully treated, fair prices paid.
==> Contact us for a free no-obligation evaluation <==
---
All images and data © Sotheby's
Description / Link
Silver Workmaster
Sold for incl. premium
Age
Size in / cm
Auction Date & Location
Comments
Fine and rare Fabergé Icon of Christ Pantocrator in the gilded silver frame set with rubies, sapphires, emeralds, and pearls

Fabergé, workmaster Johan Victor Aarne, St. Petersburg

$ 780,200

circa 1900

9 1/4 x 6 1/2 in. 23.5 x 16.5 cm)

Spring 2008, New York

Contained in a glazed display case. Presently in the collection of the Fabergé Museum in St. Petersburg

A SILVER-GILT CLOISONNÉ AND PICTORIAL ENAMEL TRIPTYCH ICON, with the Ascension of Christ, flanked by Saint Prince Alexander Nevsky and Saint Blessed Xenia, the lower skirt titled 'The Saratov Nobility'

Khlebnikov, Moscow

$ 704,850

1899-1908

opened: 13 by 12 5/8 in (33.2 by 32cm)

Fall 2019, London

Rare and Important Imperial Silver-Gilt and Enamel Triptych Icon of the Feodorovskaya Mother of God, Wedding Gift to Their Imperial Majesties

Savelev Brothers, Kostroma,

$ 540,711

1894

height 13 1/4 in (33.7cm)

Spring 2018, London

inscription in Russian: 'To His Imperial Highness the faithful Emperor Nikolai Alexandrovich and to his wife the faithful Empress Alexandra Feodorovna/ A devout offering from the Kostroma state/ The year 1894, November 14', in a fitted plush-lined wood case, the reverse with a partial paper label for Hammer Galleries, New York, and the remains of another label, presumably an exhibition label, dated _ 31, 1937

RARE AND IMPORTANT FABERGÉ GEM-SET SILVER AND EN PLEIN ENAMEL ICON OF CHRIST PANTOKRATOR
FABERGÉ, MOSCOW
$ 470,890
1908-1917
12¼ by 10½ in (31.2 by 26.8cm)
Spring 2020, London
The border inscribed 'To our brother Nikon Alexandrovitch Molchanov / and his wife Maria Alexandrovna as a memento from / sisters and brothers / 28 April 1916'; struck on the lower edge with Fabergé K.Fabergé in Cyrillic under the Imperial warrant, 88 standard, scratched inventory number 17810; accompanied with original calling card inscribed 'Nikon Alexandrovitch Molchanov / N A Molchanov / The Icon of the Saviour (a present from the sisters and brothers) [we are] giving to our daughter Lydia Nikonov / Kuznetsova 1934, March 23, Harbin / M. and N. Molchanov'
Russian silver-gilt and cloisoneé enamel icon of The Trinity
Grachev Brothers, St Petersburg
$ 441,288
1890-1896
15 3/8 by 11 in (39 by 28cm)
Fall 2018, London
Russian silver-gilt and cloisoneé enamel icon of the Entrance of the Virgin into the Temple
Feodor Rückert, Moscow
$ 441,288
1899-1908
12 5/8 by 11in (32 by 28cm)
Fall 2018, London
Important Russian gilded silver and enamel icon triptych with St. Olga, flanked the Mother of God of the Sign and the Great Martyr St. Catherine
Ovchinnikov, Moscow
$ 409,000
1895
open 11 3/4 x 12 1/2 in (30 x 32 cm)
Spring 2008, New York
the reverse inscribed, "From the citizens of the town of Tsarskoe Selo, 3rd November 1895;" the base inscribed with signature of the retailer, Lyubavin, St. Petersburg.
Important Russian Imperial silver-gilt and cloisonné enamel icon of Christ Pantocrator
Ovchinnikov, Moscow
$ 406,365
1884
Fall 2012, London
the reverse applied with two metal plaques engraved with dedicatory inscriptions in Russian '[From the] Guards [to] Their Imperial Majesties' and 'On the Occasion of the Miraculous Rescue during the Imperial Train's Accident, 17 October 1888,' the reverse also applied with printed inventory label of the Gatchina Palace Church numbered in ink 388, kn.1, the upper right corner of the frame inscribed in light blue paint with Soviet-era inventory number G: 25131
Imperial silver-gilt and cloisonné enamel triptych icon with Saint Nicholas the Miracleworker flanked by Saint Alexander Nevsky and Saint Mary Magdalene

Khlebnikov, Moscow

$ 372,890

1886

height: 13 1/2 in (34cm)

Fall 2018, London

the reverse engraved with presentation inscription 'To His Imperial Highness the Tsarevich/ Nicholas Alexandrovich/ from the Moscow Bourgeois Society/ May 1886',

Fabergé jewelled silver, enamel and seed-pearl icon of the Pelagonitissa Mother of God
Fabergé, Moscow
$ 355,520
1908-1917
9 by 7 3/4 in (23 by 20cm)
Spring 2016, London
Scratched inventory number 40852 or 40859
Russian icon of the Crucifixion and Passion of Christ with gilded silver oklad

Fedor Timofeev, Moscow

$ 233,000

1836

18 1/4 x 15 1/4 in. (46.3 x 38.8 cm)

Spring 2014, New York

Russian silver-gilt icon of the Iverskaya Mother of God
Khlebnikov, Moscow
$ 219,396
1908-1917
12 3/8 by 10 3/4 in (31.6 by 27.2cm)
Fall 2009, London
in original Khlebnikov cardboard box
Russian icon of Christ Pantocrator with gilded silver and enamel oklad

Emilian Kuznetsov, Moscow

$ 197,000

1899-1908

12 1/4 x 10 3/8 in. (31.1 x 26.4 cm)

Fall 2013, New York

Provenance: Emmanuel Benakis (1843-1929)

Russian Presentation Icon of the Savior with fine gilded silver oklad

Grachev Brothers, St. Petersburg

$ 193,000

late 19th century

10 1/4 x 8 3/4 in (26 x 22 cm)

Spring 2008, New York

the back applied with a silver plaque inscribed in Cyrillic, "The faithful peasantry of the Radom guberniia prays for the flourishing of the Tsar and Tsaritsa." Contained in a fitted wood display case.

Russian silver-gilt icon of St. Alexei, Metropolitan of Moscow mounted in a birchwood frame, dated 1613-1913
Khlebnikov, Moscow
$ 186,264
1908-1917
13 3/4 by 12 in (35 by 30cm)
Fall 2008, London
Russian silver and enamel icon triptych with Christ Pantocrator flanked by the Guardian Angel and St. Paul
Ovchinnikov, Moscow
$ 180,000
circa 1900
height 7 1/2 in (19 cm)
Spring 2007, New York
the back with a presentation inscription, "From the officers and cossacks of the 4th Ural Cossack Regiment with affection to their Commanding Officer General Adjutant Pavel Ivanovich Mishchenko, Hero and Man, 1906". Contained in original fitted oak case
A silver-gilt and cloisonné enamel icon of St Nicholas the Miracleworker

Ovchinnikov, Moscow,

$ 169,425

1908-1917

height: 12 3/8 in (31.5cm)

Fall 2014, London

Russian Gilded Silver and Enamel Icon Triptych with Christ Pantocrator flanked by the Mother of God and St. Nicholas the Wonderworker
Feodor Rückert, Moscow
$ 158,500
circa 1910
6 1/4 x 7 1/4 in. (open)(15.9 x 18.4 cm)
Fall 2010, New York
Russian Icon of the Vladimir Mother of God in silver oklad

Khlebnikov, Moscow

$ 157,000

circa 1910

10 1/2 x 8 3/4 in (26 x 22 cm)

Spring 2008, New York

Russian silver and cloisonné enamel triptych icon with the Ascension of Christ, the left with St. John the Warrior
Lyubavin, St. Petersburg
$ 130,485
circa 1895
open: 33 by 28.6cm (13 by 11 1/4 in)
Fall 2009, London
Fabergé parcel-gilt silver pendant personal icon, Moscow.
Fabergé, Moscow
$ 114,021
1908-1917
height: 4in (10.3cm)
Fall 2010, London
Given by Felix Count Sumarokov Elston, Prince Yusupov to His Son. The wood back is inscribed in ink in Cyrillic: "Elevoery born 6th October 1914, Petrograd."
GEM-SET SILVER-GILT AND MOTHER OF PEARL TRAVELING TRIPTYCH ICON with Christ Pantocrator flanked by the Mother of God and John the Baptist


Olovyanishnikov and Sons, Moscow

$ 111,125

1908-1917

opened: 3 1/8 by 5 5/8 in (7.6 by 14.3cm)

Spring 2019, London

with original fitted case

Russian Icon of Christ Pantocrator with gilded silver and shaded enamel oklad

Sergei Zharov, Moscow

$ 109,000

circa 1900

12 1/2 x 10 1/2 in (32 x 26.7 cm)

Spring 2008, New York

Russian Icon of Iverskaya Mother of God with gilded silver and shaded enamel oklad

Sergei Zharov, Moscow

$ 109,000

circa 1900

?

Spring 2008, New York

Russian silver-gilt, seed pearl and cloisonné enamel icon of the Vladimirskaya Mother of God
Ivan Tarabrov, Moscow
$ 108,840
1893
12 1/2 by 10 1/2 in (31.5 by 27cm)
Fall 2008, London
held in a gilt frame and customized kyot
Russian Icon of the Kazan Mother of God in silver and enamel oklad

Antip Kuzmichev, Moscow

$ 103,000

1888

12 1/4 x 10 1/4 in (31 x 26 cm)

Spring 2008, New York

Fine Russian Presentation Icon of Our Lady of the Sign

Fabergé, St Petersburg

$ 103,000

circa 1908

11 x 8 5/8 in (28 x 22 cm)

Spring 2008, New York

Russian silver-mounted icon of the Hodigitria Mother of God
Fabergé, Moscow
$ 102,000
circa 1912
?
Spring 2007, London
with London import marks for 1912 and the initials C.F., and scratched inventory number 21131.With red leather and velvet easel frame.
Fine Russian gilded silver icon triptych with selected saints
Samuel Arnd, St. Petersburg
$ 97,000
1853
8 x 9 1/4 in (20.2 x 23.5 cm).
Spring 2008, New York
Russian gilded silver and shaded enamel icon triptych with Christ enthroned flanked by the Virgin Mary and St. John the Baptist
Sergei Zharov, Moscow
$ 97,000
circa 1912
9 1/4 x 9 1/4 in (23.5 x 23.5 cm)
Spring 2008, New York
the back with a presentation inscription and date 1912
Russian silver-gilt icon of Saint Nicholas
Fabergé, workmaster: Victor Aarne, St. Petersburg
$ 96,532
1899-1908
5 1/2 by 3 3/8 in (14 by 8.5cm)
Spring 2009, London
in original fitted wood case
Russian Presentation silver icon of St Alexandra and St Paul
icon by Feodor Platonov, maker's mark M.T., St Petersburg
$ 95,342
1889
10 3/4 by 8 7/8 in (27.3 by 22.7cm)
Fall 2010, London
the reverse with a silver dedication plaque: 'To His Imperial Highness Grand Duke Pavel Alexandrovich from his valets/ .../ 4 June 1889'
LARGE SILVER-GILT PRESENTATION ICON OF THE MARTYR SAINT ALEXANDRA OF ROME
PAVEL OVCHINNIKOV, MOSCOW
$ 85,329
1909
24⅝ by 15¾ in (62.5 by 40.2cm)
Spring 2020, London
Engraved on the back in Russian 'In the year 1909 / this image was presented to the Church of St Andrew the Apostle in the Chisinau preparatory school/ by the chamberlain of his Highness' Court Georgi Dmitrievitch Krupenski / in memory of his unforgettable mother, Alexandra Georgievna Krupenski, neé Katarzhi / [deceased] 7 September 1917'
Russian Icon of the Mother of God with Fine Gilded Silver, Enamel, and Jeweled Oklad.

Nikolaev Mnekin, Moscow

$ 83,500

1886

12 1/4 x 10 1/2 in. (31.1 x 26.7 cm)

Spring 2012, New York

Contained in a shadow box.

A SILVER-GILT TRIPTYCH ICON with Our Lady of Kazan flanked by St Alexander Nevsky and St. Nicholas

unidentified workmaster DS, Moscow

$ 79,375

1899-1908

7 7/8 by 10 3/8 in (20 by 26.5cm)

Spring 2019, London

with original fitted case

Russian Icon of the Anastasis with Feasts

Palekh, late 19th century

$ 78,000

28 1/4 x 23 1/2 in (71.5 x 59.5 cm)

Spring 2007, New York

Russian jeweled silver-gilt personal icon of the Kazanskaya Mother of God
Fabergé workmaster Hjalmar Armfeldt, St Petersburg
$ 76,798
1908-1917
2 1/2 by 2in (7.5 by 5cm)
Fall 2013, London
Russian Silver-Gilt, Gem-Set and Enamel Icon of St Nicholas the Miracleworker
Ivan Tarabrov, Moscow
$ 76,525
1899-1908
13 1/8 by 11 5/8 in (33.3 by 29.5cm)
Spring 2013, London
Pair of Russian Icons: The Mother of God of the Sign and St. Nicholas the Miracle Worker

$ 74,500

circa 1900

35 x 24 1/8 in (89x 61.3 cm)

Fall 2009, New York

Russian Icon of St. Nicholas the Wonderworker

Maker's mark I.G., Moscow

$ 73,000

1880

12 1/2 x 10 3/4 in. (31.6 x 27.3 cm)

Spring 2008, New York

Silver icon of Saint Nicholas
1st Artel, Moscow
$ 71,059
1908-1917
12 3/8 by 10 5/8 in (31.5 by 27cm)
Fall 2010, London
SILVER ICON OF SAINT ALEXANDER NEVSKY
Feodor Platonov, oklad by Grachev, St Petersburg
$ 65,610
1890
12¼ by 10 1/2 in (31 by 26.7cm)
Spring 2020, London
Russian silver-gilt and cloisonné enamel triptych icon with St George flanked by St Alexander and St Michael
maker's mark PiK (Cyrillic), St Petersburg,
$ 65,284
1908-1917
height: 9.8cm (3 7/8 in); width open: 14.2cm (5 5/8 in)
Fall 2009, London
the back engraved To Colonel Sergei Petrovitch Galler The society of reserve battalion officers of Petrograd Life Guards regiment 12 June 1915
A rare Russian icon of Christ Emmanuel, the Unsleeping Eye (Nedremanoe oko)

$ 62,500

16th century

12 1/4 x 9 1/2 in., (31.1 x 24.1 cm)

Fall 2015, New York

Windows to Heaven: The Icons of Russia,

Santa Barbara, 1982, no. 6, p. 34.


Sacred Images and the Millennium: Christianity and Russia,

Eugene, 1988, no. 9, p. 6.

Silver Icon of St Tatiana and St Nadezhda
Semen Pavlovich, St Petersburg
$ 61,664
1908-1917
12 3/8 by 8 7/8 in (31.4 by 22.5cm)
Fall 2011, London
Russian Icon of the Venerable St. Micah with gilt silver oklad

apparently Mitrofan Ryndin, Moscow

$ 61,000

circa 1900

12 1/4 in. x 10 1/2 in (31 x 26.6 cm)

Spring 2008, New York

Russian icon of Christ Pantocrator with gilded silver, cloisonné enamel and seed pearl oklad.

Ovchinnikov, Moscow

$ 56,250

circa 1895

4 3/4 x 4 1/4 in. (12.2 x 11 cm)

Fall 2013, New York

contained in original silk-lined wood case of the firm Ovchinnikov

Russian icon of St. Fedor with gilded silver and enamel oklad

I.E. for an unidentified master, Moscow

$ 56,250

1899-1901

12 1/4 x 10 1/2 in., 31.2 x 26.8 cm

Fall 2015, New York

Dedicatory presentation plaque to Church Elder Fedor Grigoriev from members of his congregation in 1901

Russian icon of the Old Testament Trinity

late 16th century

$ 55,715

35 1/2 by 26 3/4 in (90 by 68cm)

Spring 2019, London

Russian silver icon of Christ Pantocrator
Dmitri Smirnov, Moscow
$ 53,429
1908-1917
height of icon: 12 1/4 in (31.5cm); height of case: 24 in (61cm)
Fall 2009, London
in original brass-mounted wood display case with inner giltwood frame
Russian Gilded Silver Icon Triptych with the Annunciation and selected saints
Ovchinnikov, Moscow
$ 53,125
1887
9 1/8 x 8 1/2 in. (open) (23.2 x 21.6 cm)
Spring 2011, New York
Personal silver Icon of the Kazanskaya Mother of God
Fabergé, Moscow
$ 51,654
1908-1917
5 1/4 by 3 5/8 in (13.2 by 8.8cm)
Spring 2013, London
Russian silver and enamel icon of the Mother of God Hodigitria
Ovchinnikov, Moscow
$ 51,000
circa 1890
4 1/2 x 4 in (11.5 x 10.2 cm)
Spring 2007, New York
Russian Icon of Christ Pantocrator
with silver and enamel oklad

Ovchinnikov, Moscow,

$ 51,000

circa 1900

3 5/8 x 3 1/8 in (9.2 x 8 cm)

Spring 2007, New York

A Russian Icon of Christ Pantocrator with Gilded Silver and Enamel Oklad.

Semyon Galkin, Moscow

$ 50,000

circa 1890

12 1/8 x 10 1/2 in (30.8 x 26.7 cm)

Spring 2010, New York

Russian Icon of Christ Pantocrator with Gilded Silver and Enamel Oklad

Sergei Zharov, Moscow

$ 50,000

circa 1900

12 1/4 x 10 3/4 in (31.1 x 27.3 cm).

Spring 2009, New York

Russian Imperial Silver and Enamel Icon of St. Michael
Grachev Brothers, St. Petersburg
$ 50,000
1903
5/8 x 3 7/8 in. (16.8 x 9.8 cm)
Spring 2013, New York
the reverse with a dedicatory inscription to "Our Royal Chief [from] the Fifth Life Guards Mounted Battery 1878 23 November 1903".
Russian Icon Pendant of the Guardian Angel with champlevé enamel silver frame

Dimitri Smirnov, Moscow

$ 48,000

circa 1910

height 2 1/4 in (5.7 cm)

Spring 2007, New York

Russian Icon of the Feodorovskaya Mother of God with Gilded Silver and Enamel Oklad

Zakharov Brothers, Moscow

$ 47,500

circa 1900

14 x 12 1/4 in (35.6 x 31.1 cm)

Spring 2009, New York

Russian Icon of the Kazan Mother of God in gilded silver and enamel oklad

?, Moscow

$ 46,000

circa 1890

12 x 10 1/4 in (30.5 x 26 cm)

Spring 2008, New York

Russian jeweled silver-gilt icon of the Kazanskaya Mother of God
Fabergé, workmaster Karl Armfeldt, St Petersburg
$ 45,279
1904
2 1/2 by 2in (7.5 by 5cm)
Fall 2009, London
Silver-gilt and cloisonné enamel triptych icon with the Archangel St Michael flanked by the Guardian Angel and St John.

Maria Semenova, Moscow

$ 42,807

1899-1908

height incl. loop: 6in (15.2cm)

Fall 2010, London.

Russian silver and enamel icon of the Deisis
Nikolai Tarabrov, Moscow
$ 40,861
1894
14 1/2 by 12 5/8 in (37 by 32cm)
Fall 2010, London
Large Russian Icon of Miracle Images of the Mother of God [and selected saints]

$ 40,000

circa 1900

35 x 27 1/2 in (89 x 70 cm)

Spring 2008, New York

Silver-gilt and cloisoneé enamel triptych icon of St George slaying the Dragon,

Ivan Khlebnikov, St Petersburg

$ 39,856

circa 1895

9 5/8 by 13 3/8 in (24.5 by 34cm)

Fall 2018, London

the back with an inscription 'To the valiant glorious brave chief / of the unbeatable army of the South of Russia / his excellency / Anton Ivanovitch Denikin / Let Saint George slaying the dragon be the herald / of a near and final victory against the enemy and the recovery / of the Great United and Undefeated Russia / From the grateful citizens of the cities Rostov and Nakhichevan-on-Don / saved by you from the horrors of Bolshevism 31 June 1919',

Russian silver icon panel with the Protection of the Mother of God.
?, St. Petersburg
$ 39,000
1842
height 10 3/4 in. (27 cm)
Spring 2007, New York
the reverse engraved with a presentation inscription
Russian silver-gilt and cloisoneé enamel icon of the Kazanskaya Mother of God
Nikolai Tarabrov, Moscow
$ 38,262
1908-1917
12 1/4 by 10 5/8 in (31 by 27cm)
Fall 2018, London
Russian Icon of the Nativity of St. John the Baptist

$ 37,500

17th century

37 x 28 in. (94 x 71.1 cm)

Spring 2011, New York

Russian Icon of the Holy Visage with Gilded Silver and Enamel Oklad

Alexander Andreev, Moscow

$ 37,500

1894

12 1/8 x 10 1/2 in (30.8 x 26.7 cm)

Spring 2010, New York

Russian Icon of the Vladimir Mother of God [with 4 border saints]

Ivan Tarabrov, Moscow

$ 37,500

1896

12 x 10 1/2 in. (30.5 x 26.7 cm)

Spring 2010, New York

Russian Gilded Silver and Shaded Enamel Traveling Icon of the Guardian Angel
Feodor Rückert, Moscow
$ 37,500
circa 1900
2 3/4 x 2 3/8 in (7 x 6 cm)
Spring 2011, New York
Russian Icon of the Apostles Bartholomew and Titus with silver basma and the halos

$ 37,000

19th century

21 3/4 x 11 in (55 x 28 cm)

Spring 2008, New York

Presentation Russian icon of the Virgin of Vladimir in enamel oklad

Khlebnikov, Petersburg

$ 35,559

circa 1896

height 31.4cm

Fall 2009, Amsterdam

the back with silver dedication plaque with text: "To their Imperial Majesties on the day of their coronation from Moscow district 14 May 1896."
Russian Icon of Christ Pantocrator

Sergei Zharov, Khlebnikov as retailer, Moscow,

$ 34,375

circa 1910

10 1/2 x 8 3/4 in (26.7 x 22.2 cm)

Fall 2009, New York

Russian Icon of the Hodigitria Mother of God in metal basma

$ 34,000

19th century

38 x 24 1/2 in (97 x 62 cm)

Spring 2008, New York

Russian Icon of the Kazan Mother of God in silver oklad

Dmitri Orlov, Moscow

$ 33,400

1868

10 3/4 x 8 3/4 in (27.5 x 22 cm)

Spring 2008, New York

Russian Icon of the Resurrection of Christ with Feasts with gilded silver oklad

Palekh School, Moscow

$ 32,200

1877

12 1/4 x 10 1/2 in (30.5 x 26.6 cm)

Spring 2008, New York

Russian Icon of the Iverskaya Mother of God With Gilded Silver and Cloisonné Enamel Oklad

Markov Brothers, Moscow

$ 31,250

1895

12 1/4 x 10 1/2 in (31.1 x 26.7 cm)

Spring 2012, New York

Russian Gilded Silver Presentation Triptych Icon with Christ Pantocrator, flanked by St. Nicholas the Wonderworker and St. Vladimir
Ovchinnikov, Moscow
$ 31,250
1899-1908
4 1/2 x 8 1/8 in. (open) (11.5 x 20.7 cm)
Spring 2013, New York
the back with a suspension ring and dedicatory inscription in Cyrillic reading: "To His Excellency [Member of] the Suite of His Imperial Majesty Major General V.F. Dzhunkovsky from the grateful peasants of the Ramensky Rural Society of Bronnitsky uezd, 19 January 1913."
Parcel-gilt silver and enamel icon of Christ Pantocrator

Dmitri Smirnov, Moscow

$ 29,462

1899-1908

10 1/2 by 8 3/4 in (26.8 by 22.3cm)

Fall 2016, London

Russian icon of St. Vladimir

I.M. Malyshev, Sergiev Posad, silver frame by Ovchinnkov, Moscow

$ 28,125

1881-1883

19 3/4 x 8 3/4 in (50.2 x 22.2 cm)

Fall 2009, New York

Presentation Russian Icon of St. Alexei, Metropolitan of Moscow

unclear maker's mark, apparently A.M.A., Moscow

$ 28,125

circa 1904

13 3/4 x 12 in (35 x 30.5 cm)

Fall 2009, New York

the reverse applied with a plaque inscribed "This icon is presented on the first saint's day of His Imperial Highness, the Heir Tsarevich and Grand Duke Alexei Nicholaevich, and to commemorate the blessed raising on this day of a church named for St. Alexei, Metropolitan of Moscow, in the Andreev Hermitage on Mount Athos, October 5th, 1904, St. Petersburg. Painted and blessed on the holy Mount Athos."

Russian Icon of Christ Pantocrator with Gilded Silver and Enamel Oklad.

Dmitrii Alexandrov, Moscow

$ 28,125

1888

12 7/8 x 10 1/2 in. (32.7 x 26.7 cm)

Spring 2012, New York

Russian Icon of the Annunciation

Yaroslavl

$ 28,000

17th century

13 1/2 x 11 in (34.2 x 28 cm)

Spring 2008, New York

Russian icon of St. Nicholas the Wonderworker with gilded silver and enamel oklad.

Yakov Mishukov, Moscow

$ 27,500

1889

12 1/2 x 10 5/8 in. (32 x 27.2 cm)

Fall 2015, New York

Russian Icon of Christ Pantocrator with repoussé and chased silver and enamel oklad

by Pavel Mishukov, Moscow

$ 27,000

circa 1900

12 1/4 x 10 1/2 in (31 x 27 cm)

Spring 2007, New York

Russian Icon of St. Sergi of Radonezh

Ivan Gubkin, Moscow,

$ 26,200

17th Century. silver oklad 1859

12 1/2 in. by 10 1/2 in (31.5 cm by 26.5 cm)

Spring 2008, New York

Russian Icon of the Nativity of Christ

$ 25,000

17th century

28 x 20 in. (71.1 x 51 cm)

Spring 2010, New York

Russian Icon of the Baptism of Christ

$ 25,000

circa 1700

28 1/4 x 17 in. (72 x 44 cm)

Spring 2011, New York

Russian Icon of the Korsun Mother of God with Gilded Silver Oklad

unidentified

$ 25,000

18th century

12 x 10 3/8 in (30.5 x 26.5 cm

Spring 2011, New York

Russian Icon of the Kurskaya-Korennaya Mother of God with gilded silver oklad

Ivan Zakharov, Moscow

$ 25,000

1874

17 3/8 x 14 1/4 in. (44 x 36 cm)

Fall 2014, New York

Russian Presentation Icon of Apostles Peter and Paul in gilded silver oklad

apparently by A. Smirnov, Moscow

$ 25,000

1892

14 x 12 1/4 in (36 x 31 cm)

Spring 2008, New York

the reverse with a presentation plaque inscribed: "To Our Most Respected Master, Pavel Michaelovich, from his Employees on the Occasion of the 25th Anniversary of the Trade, 1867-1892"
Russian Icon of Christ Pantocrator with Gilded Silver, Enamel, and Seed Pearl Oklad

Ovchinnikov

$ 25,000

1890

4 3/4 x 4 1/4 in. (12.2 x 11 cm)

Spring 2010, New York

Russian Icon of the Miracle of the Archangel Michael at Chonae

Morozov, St. Petersburg

$ 25,000

circa 1900

15 x 11 1/2 in (38.1 x 29.2 cm)

Fall 2009, New York

sold with a carved wooden kiot

Russian gilded silver and enamel personal icon of a Guardian Angel
Ovchinnikov, Moscow
$ 25,000
1899-1908
height 3 in. (7.7 cm)
Fall 2015, New York
Fabergé jewelled silver icon of Saint Alexandra
Fabergé, Moscow
$ 24,234
1908-17
height: 5 1/4 in (13.2cm)
Fall 2017, London
Russian Icon Triptych with the Mother of God of Tenderness

$ 24,000

early 18th century

27 1/2 in. x 31 1/2 in (70 x 80 cm)

Spring 2007, New York

Russian Icon of St. George Slaying the Dragon

$ 23,750

First half of the 17th century

15 x 12 1/8 in. (38.1 x 30.8 cm)

Spring 2010, New York

Russian Icon of Christ Enthroned

$ 23,750

17th century

12 1/4 x 9 3/4 in (31 x 25.4 cm)

Spring 2008, New York

Contained in a fitted wood display case.

Russian Icon of the Vladimir Mother of God with Gilded Silver, Enamel and Seed Pearl Oklad

Ovchinnikov, Moscow,

$ 23,750

1890

3 7/8 x 3 in. (9.8 x 7.6 cm).

Spring 2013, New York

held in glazed wood shadow box

Russian Icon of the Virgin and Child with gilded silver and enamel oklad, with beadwork robes

by Vasili Savelev, Kostroma

$ 21,600

19th century

12 3/4 x 10 1/4 in (32.4 x 26.6 cm)

Spring 2007, New York. Sold for:

Russian Icon of the Mother of God "Umilenie"

$ 22,500

circa 1600

12 3/8 x 9 3/4 in (31.4 x 24.8 cm)

Spring 2009, New York

Russian icon of the Mother of God of the Burning Bush

unmarked

$ 22,500

18th Century

21 1/8 x 17 1/4 in. (53.7 x 43.8 cm)

Fall 2015, New York

Windows to Heaven: The Icons of Russia

, Santa Barbara, 1982, no. 14, p. 52.

Russian Icon of Christ Pantocrator with Gilded Silver and Enamel Oklad.

Ivan Tarabrov, retailed by Ovchinnikov, Moscow

$ 21,250

1883

12 3/8 x 10 5/8 in (31.5 x 27 cm).

Spring 2011, New York

the back applied with a plaque inscribed "To Deeply Respected Dean Archpriest Timofei Petrovich Sokolov from the grateful clergy under his supervision on the 50th anniversary of his ordination 1848-23 June-1898"

Large Russian Icon of the Ascension of Christ

$ 21,250

19th century

37 x 35 1/2 in. (94 x 90 cm)

Spring 2011, New York

Russian Icon of the Tikhvin Mother of God with Gilded Silver Oklad

28th Artel, Moscow

$ 20,000

circa 1910

8 7/8 x 7 1/4 in. (22.5 x 18.4 cm)

Spring 2010, New York